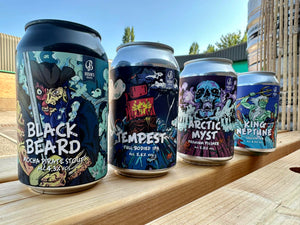 A treasure chest of each of our 4 canned brews including:

3 x Arctic Myst (5% ABV) -  Premium Pilsner - A crisp, refreshing craft alternative for lager drinkers, brewed using pilsner malt and Czech and German hops. With its honey notes, this pilsner is guaranteed to give you your sea legs.
3 x Tempest (5.6% ABV) - Full Bodied IPA - This American IPA is light gold in colour and brewed using fine American hops. Despite its fruity nose and bursts of citrus and grapefruit flavours, it doesn't cure scurvy, unfortunately.
3 x  Black Beard (4.3%ABV) - Pirate Mocha Stout - This is a swashbuckler of a brew
3 x King Neptune (4.3%ABV) - The God Liquid Refreshment - A session IPA that's light golden in colour, has a fruity nose and subtle bursts of citrus and grapefruit flavours – the ultimate booty! shiver me timbers, it's good
ALLERGENS - Malted Barley (Gluten), Wheat